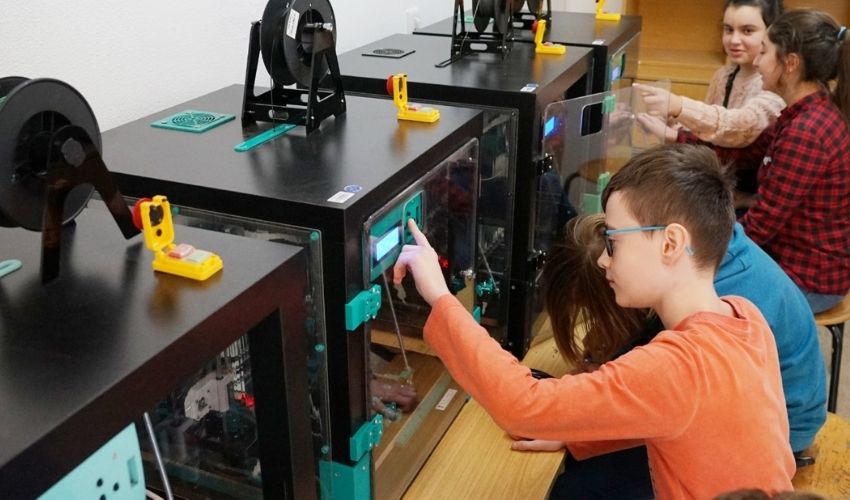 The integration of project-based teaching not only represents a welcome change from the otherwise often theory-heavy lessons, but is also recognized in school psychology and neuroscience as a method for better learning. When children are given the opportunity to work on a project themselves, they can combine existing knowledge with new content, hone their problem-solving skills and increase their self-esteem in the process. The holistic learning stimulates the cognitive, social, affective and motor skills of the students. Initiated by 3dk.berlin in cooperation with Tutolino "3D printing is catching on" combines this school psychological benefit with 3D printing and thus introduces the students to the topic in a playful way. As part of this project, they can expand their technical understanding, get to know the possible applications of the 3D printing process and creatively implement their own ideas.
For many adults, when they think back to school, their best (or fondest) memories will probably be of subjects like physical education, DIY or chemistry. Subjects in which people actively tried out, researched and reflected on. And there is even a neuroscientific explanation for this. Accordingly, emotions are a key success factor for our memory performance. These affect the so-called working memory and thus the ability to store information and to be able to access it again later. Stimulating the different senses can therefore make the difference in the learning process.
How can this project-based teaching with "3D printing goes to school" flow into everyday school life?
Educational institutions participating in the "3D printing makes school" project will receive one or more optimized kits based on the Anet-A8, depending on demand. These are 3D printers that can be purchased from educational institutions for €499 each. The features of the machine include a printing space of 220 mm x 220 mm x 240 mm, a heated printing board, a printing speed of 30 to 120 mm/s, a layer height of 0.05 mm to 0.4 mm and an LCD display. Also, the 3D printer is compatible with many different materials, such as: B. PLA, PETG, ABS, WillowFlex and more. Before the Anet-A8 kits are shipped, they are optimized by 3dk.berlin and twelve other project partners with accessories and high-quality screws, so that ultimately more than 100 individual parts are delivered. After receiving the resulting Tutolino kit or kits, assembly can begin. To ensure that the assembly is successful, free assembly instructions are available on tutolino.net. During this phase, which will take several weeks, the students not only learn how to carry out complex tasks, but also understand how a 3D printer is built and how it works.
Safety always comes first
After completion, the 3D printer receives a special housing, which is also assembled by the students and includes the following safety settings: an emergency stop switch, power-on protection in the event of a power failure, a filter system (activated carbon/Hepa filter), a lockable printing room, overheating protection and maintenance devices. In addition, the housing enables external power and filament supply as well as external controls. These safety precautions of the fully assembled 3D printer were confirmed by receiving the V3 seal in accordance with the regulations of the German Social Accident Insurance (DGVU).
As soon as the kit has been completely assembled, the first sense of achievement is recorded: the students have built a working 3D printer themselves, which will soon be able to print the first personalized parts. However, before the printing process can start, the 3D object must be modeled. The free design program "Tinkercad" is used for this. In this phase, the students can implement their creative ideas and at the same time learn how to use the software. If you don't have the time or inspiration for this, tutolino.net offers print files that can be used free of charge. Slicing is also an essential step in the 3D printing process, as it converts the modeled 3D objects into a 3D printer-readable G-code. After all of these steps have been completed, the printing process can begin and the students get credit for their hard work.
The Carl-Friedrich-von-Siemens-Gymnasium in Berlin Spandau, for example, shows that the "3D printing teaches" project can be implemented very well. This was the first school in Berlin to participate with its own 3D printing AG. A total of 5 kits have been purchased for these since 2018, which once again illustrates the success of the project. The 3D printing AG is firmly anchored in the school and uses additive manufacturing in a variety of ways, e.g. B. for items for the Christmas bazaar that are printed with food-safe PLA from 3dk.berlin.
Finally, the promotion of the children's social skills also speaks in favor of the methodology of holistic learning. Because they not only have to bundle their knowledge in the project but also have to cooperate, the cohesion of the group can be strengthened. The ability to work in a team is also expected of the students later in their professional lives. And Albert Einstein already said: "It is the most important art of the teacher to awaken the joy of creating and recognizing."
All further information about the project can be found HERE. So what do you think about "3D printing goes to school"? Please leave us a comment or let us know what you think on Facebook, Twitter, LinkedIN or Xing. Would you also like to receive a summary of the most important news in 3D printing and additive manufacturing directly and conveniently in your mailbox? Then register now for our weekly newsletter.
*All picture credits: 3dk.berlin